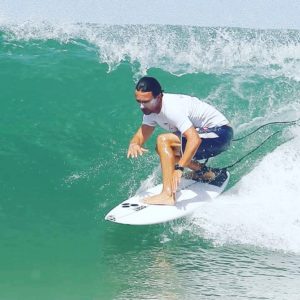 Yann Reux, from Britany, started his instructing career in 2002.
Yann sells his instructing and coaching experience for all levels, from beginners to experienced having always in mind your pleasure and security in mind, giving you the best tips and exercises for your progression.
WannaSurfBetter started in 2011 as a coaching service for kids from the area, Yann also worked as a coach for the well known CapBreton surf club. Worked beside this as a surf instructor for the Contis surf school every summer for 12 years.
Mid seasons surf camps started in 2014, welcoming the summer student coming to improve their surfing as they learned the basics earlier in lessons, discovering the different spots of south Landes and Basque country, Hossegor, Seignosse, Capbreton, Biarritz, Anglet …
The WannaSurfBetter project was finalized with the creation of our summer school in Lit et Mixe and it's beautiful wild beach of Cap de L'homy.
Graduated with the French instructing diploma of BEES surf in 2002.
Graduated with the Tronc commun in 2002.
Graduated with the life saving BNSSA diploma in 2002.
18 years of experience as an instructor and coach in private schools, clubs and free lance.
Coaching of Jorgann Couzinet, 10th on the WQS ranking in 2019.
Coaching of Olivier Cassaigne, 19th on the 2019 european pro junior tour.